Events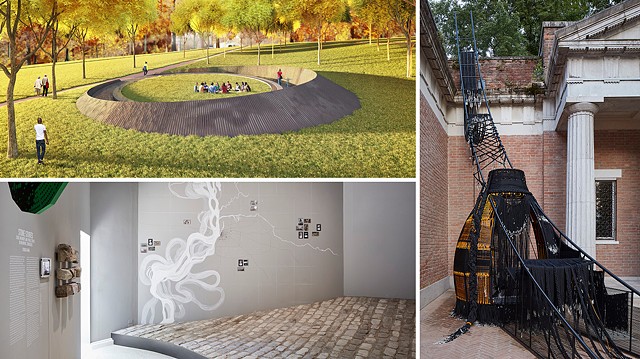 *Contested Ground: Design and the Politics of Memory
A conversation with Jeanne Gang, Amanda Williams, and Mabel O. Wilson*
January 22, 2019
7:00pm - 8:30pm
The Architectural League New York
How can historians, architects, and designers make visible and physically memorialize lost histories—what the founding Director of the Smithsonian's National African American Museum of History and Culture, Lonnie Bunch, refers to as "histories that hide in plain sight"? What are the design implications of spatializing the politics of memory? To whom will these memorials speak, and what do they tell us about our shared past? A three-way conversation between Jeanne Gang, Amanda Williams, and Mabel O. Wilson will explore these questions based on their research and design projects addressing public space, race, and cultural memory.
The discussion will include an exploration of the thematic links in three recent projects: Williams' Thrival Geographies (In My Mind I See A Line), Gang's Stone Stories—both created for the 2018 Venice Architecture Biennale US Pavilion, Dimensions of Citizenship—and Wilson's Memorial to Enslaved Laborers at the University of Virginia (designed in collaboration with Höweler + Yoon).
SMART WINTER OPENING
January 28, 2019
7:00pm - 8:30pm
Smart Museum of Art
Celebrate the Smart Museum of Art's winter exhibitions!
Experience works by multiple generations of African American artists that challenge a monolithic narrative of modern art history, join an intimate gallery talk, see the first major exhibition from the Feitler Center for Academic Inquiry, and get a first look at new commissions by Bethany Collins, Samuel Levi Jones, and Amanda Williams.
Lecture: Amanda Williams and Andres L. Hernandez, "PRACTICE or Holding Space for ______."
January 31, 2019
5:00pm – 7:00pm
Michigan Theater
University of Michigan - Taubman College
How can historians, architects, and designers make visible and physically memorialize lost histories—what the founding Director of the Smithsonian's National African American Museum of History and